There's lots of discussion going on about the high level of the U.S. stock market. In the first full year since election day 2016, the widely followed (and overused) Dow Jones Industrial Average index soared 28.5 percent. That's the most in a post Presidential election year since 1945! And, now 14+ months since 2016 election day, the Dow keeps climbing higher and higher and is up more than 40 percent over that period.
Plenty of supposedly "smart" experts like New York Times economics commentator Paul Krugman said that the stock market and economy were going to fall apart:
It really does now look like President Donald J. Trump, and markets are plunging. When might we expect them to recover?
Frankly, I find it hard to care much, even though this is my specialty. The disaster for America and the world has so many aspects that the economic ramifications are way down my list of things to fear.
Still, I guess people want an answer: If the question is when markets will recover, a first-pass answer is never...
So we are very probably looking at a global recession, with no end in sight.
Krugman, by the way, has a terrible track record according to my analysis of his previous prognostications.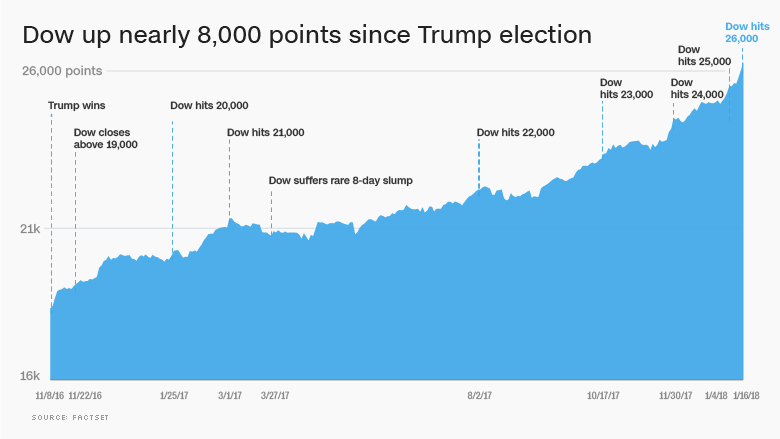 Now, some people who have been sitting on the sidelines are actually attracted to invest when things looks so good. The mistake these folks have made was in not investing during periods of uncertainty, bad news and less than stellar stock market returns (or because they were following people like Paul Krugman).
On the other hand, it's somewhat natural and normal to worry about a future stock market correction. Sooner or later we will have one - good luck guessing the timing, magnitude and duration.
Barron's recently published an interview with an investment veteran, Marvin Schwartz, at the conservative Neuberger & Berman, which has been in the investment management business since 1939. Below are the excerpts I think you'll find most relevant. They are self explanatory and please remember that this is just one long-term investment manager's opinion:
Marvin Schwartz, one of Neuberger Berman's most renowned investors, joined the firm's research department in 1961 at an hourly wage of $1.25. He caught the eye of Philip Straus, the great contrarian investor who was one of the firm's first partners, and who taught Schwartz the tenets of value investing. Today, Schwartz leads Neuberger's Straus Group, whose stock picks have roundly beaten the market for the 30 years that Neuberger has kept track, even counting a recent disappointing stretch when oil investments fizzled.
At age 76, Schwartz continues to spend nearly all of his time reading research reports and can recite a blizzard of statistics about individual companies and the economy. Barron's spent a couple of hours recently with him on the 43rd floor of Neuberger's midtown Manhattan offices, discussing tax reform, the outlook for oil, what Phil Straus might have thought of the elevated levels of today's market—"He would be 75%-to-80% invested, because he was fundamentally risk-averse"... Here's what Schwartz said.
Barron's: What does the U.S. economy look like after the tax overhaul?
Schwartz: There will be very little incentive for U.S. companies to move operations abroad: They will have to pay a U.S. tax of up to 10% on foreign earnings if the tax they pay abroad is less than the new 21% U.S. rate. We're going into a two-year period where gross domestic product will grow 3.5% to 4%, instead of 2%. That's a big difference. At 2% growth, there's no big pressure to expand capacity. A couple of quarters of 3.5%—we're kind of there already—and you'll see capital expenditures take off. Capex will grow 8% to 9% in 2018, and be stronger in 2019. Tax reform permits companies to depreciate 100% of new equipment in year one, versus 50% before.
As for individuals, remember that 47% of working Americans pay no federal income tax. Maybe yours will go up suddenly if you live in New York City. But I wouldn't call it crumbs if somebody gets an extra $2,000 or $3,000 a year. If you have a job and feel secure about it, you have a propensity to spend almost all of your income. You shouldn't, but you do, and that contributes to a stronger economy.
You must be concerned about inflation.
Wages are starting to go up at the lower end of the scale. I believe the federal government will raise the minimum wage this year to $10 an hour. It has been at $7.25 since 2009. That should lead to more inflation and higher rates. The robot phenomenon is a slow process. It's miraculous that this country has been able to replace the huge number of jobs we've exported: Over 40% of Standard & Poor's 500 revenues now comes from abroad. Consumer price inflation for 2018 will be 2.5% to 3%, still quite a bit below the 50-year average of 4.1%. Rates will rise, but it's unlikely they'll rise to the level that will choke off expansion. Very few people think the 10-year goes beyond 3.5%.
Are tax reform's benefits already baked into stock prices?
Partly. All last year, we were led to believe that if tax reform passed, it wouldn't take effect until Jan. 1, 2019. Not a single portfolio manager or analyst revised their 2018 earnings estimates. Now, earnings estimates have suddenly been revised upward. It is dramatic. The consensus estimate for 2017 operating earnings is $132, up from $119 in 2016. That means the S&P is selling at 21.2 times 2017 earnings, which usually makes people like me nervous. But in 2018, the consensus estimate is for $153, a 16% improvement, which is very realistic and, in fact, a little conservative because normal earnings without tax reform would be up 8% or 9%, given 3% GDP growth. Now the multiple is 18.3 times. For 2019, the estimate is $165, which is 17 times. In 1998-99, when technology stocks drove the S&P 500, it was 28 times.
What else drives stocks higher?
No other country is shrinking its equity base to the extent we are. We're now in our ninth year of share buybacks equal to 3% of the market value of all S&P 500 stocks, based on Laszlo Birinyi's work. For 2017, he estimates buybacks of $630 billion and for 2018, $750 billion. Companies will repatriate cash. Apple recently surprised people by saying it would repatriate most of its estimated $230 billion in cash; of that, it will spend $30 billion on capex over the next five years, creating 20,000 jobs. What happens to the other $200 billion? I can assure you it will go into either buybacks or mergers and acquisitions (M&A). U.S. M&A volume was roughly $2 trillion a year for 2014, 2015, 2016; last year, it was $1.7 trillion. About half of that—$1 trillion annually—is in cash. The S&P 500 is $25 trillion, so M&A alone shrinks the equity base by 4% a year.
We also have the highest profit margins. From the 1960s until 2000, the S&P 500's operating margin bounced around 6%. In recent years, it rose to 10.5%, as companies moved offshore for multiyear tax holidays. As a result of corporate tax reform, the 10.5% now becomes 12.5%.
Aren't you concerned about the speed of the rally?
For 20 years, the average price/earnings ratio has been 19.3. If you go back 50 years, it's 15.6 times. In periods where inflation grew 3% or less—which is 22 of the past 50 years—the P/E of the market was 19.7. Now, at 17 for 2019 and 15.9 for 2020, P/Es don't look particularly stretched. If earnings are rising 16% this year and a minimum of 8% next year, and if companies buy back 3% of shares, and M&A reduces them by another 4%, then I don't see why the market can't rise 10% to 15% this year and another 10% or so next year.