Update March 22, 2012: With the Dow now over 13,000, Prechter's recent predictions (see below) really look awful to go along with his horrible long-term track record (see below). Yet, Neil Cavuto on Fox today hyped Prechter's appearance on his show by saying Prechter is an investing legend and one of the all time best!
Update July 7, 2010: On June 16, 2009, I warned you to avoid Robert Prechter's extremely pessimistic stock market and economic predictions. As you can see in that article below, at that time, he predicted that stocks would sink below their March, 2009 lows by the end of 2009 or in early 2010 and that credit markets would "clam up again." He further predicted that the U.S. economy would "sink into a depression." On all of these predictions he has been totally wrong.
Now, Prechter is making news for his newest and even more extreme predictions. In a New York Times article entitled,
A Market Forecast That Says 'Take Cover'
, states the following:
"Mr. Prechter is convinced that we have entered a market decline of staggering proportions — perhaps the biggest of the last 300 years...The Dow, which now stands at 9,686.48, is likely to fall well below 1,000 over perhaps five or six years as a grand market cycle comes to an end, he said. That unraveling, combined with a depression and deflation, will make anyone holding cash extremely grateful for their prudence."

So, Prechter is calling for U.S. stocks to plunge about 90 percent from recent levels!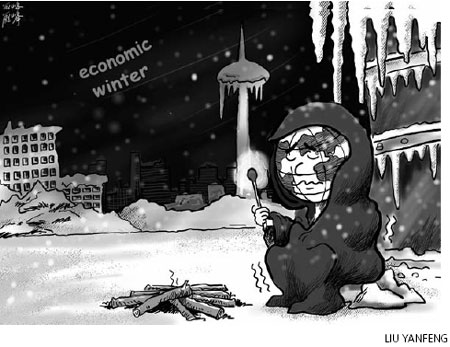 Unfortunately, the New York Times reporter and editors failed to accurately report on Prechter's terrible track record, which I documented below in June, 2009. The Times article states:
"Since 1980, the advice in his investing newsletters, when converted into a portfolio, has slightly underperformed the overall stock market but has been much less risky, losing money in only one calendar year, according to calculations by The Hulbert Financial Digest. Mr. Prechter said he disagreed with the methodology used in these measurements, but offered none of his own."

This is precisely how charlatans with lousy track records continue to be quoted in the news because lazy or inept reporters fail to ask the right questions and get the facts straight.
The Monday morning headline blared: "U.S. likely to lose AAA rating: Prechter."
Digging into the
article
widely distributed by behemoth news service Reuters, we learn that Robert Prechter also predicts:
"...investors' confidence in an economic rebound fading, a trend that will drag the S&P 500 stock index well below the March 6 intraday low of 666.79 by the end of this year or early next."
"...credit markets to clam up again as they did in the first phase of the global financial crisis and for the U.S. economy to sink into a depression."
Pretty dire predictions from Mr. Prechter. He made them at a recent "Reuters Investment Outlook Summit" held in New York. Now, you may be wondering what exactly a summit is that a news service like Reuters would be holding. Here's how they define their summits:
"Reuters Summits are your direct link to top business leaders, investors and regulators. Our journalists interview heavyweights in a particular industry, spin out hard-hitting breaking news and sharp analysis that can often move markets. If you want to understand what the insiders are thinking, look for Reuters Summits."

Now, within the Reuter's article about Prechter's recent talk, Prechter's credentials are cited as his being a "technical analyst" who is supposedly "known for predicting the 1987 stock market crash..."
Actually, Prechter has been making predictions for many years through his investment newsletter, Elliott Wave Financial Forecast. Newsletter tracker Mark Hulbert has been documenting Prechter's investment trading predictions and picks since 1985 so he now has a nearly 25 year long track record which can tell us whether you should trade on his predictions or not.
Here's how Prechter's trading advice has done from 1/1/85 through 5/31/09 versus the broad U.S. stock market average (Wilshire 5000 index) according to Hulbert's analysis:
Annualized Return:
Wilshire 5000 Index + 9.7 percent
Prechter's Trading Advice -15.4 percent
Total Return:
Wilshire 5000 Index + 857.1 percent
Prechter's Trading Advice - 98.3 percent
The underperformance of Prechter's newsletter is nothing short of astonishing and stunning! On an annualized basis, Prechter has underperformed the broad U.S. stock market Wilshire 5000 index by a whopping 25 percent per year! Here's what Hulbert's analysis shows would have happened to $100,000 invested according to Prechter's investing trading advice versus the Wilshire 5000 U.S. stock market index:
$100,000 Invested (1/1/85-5/31/09):
Wilshire 5000 Index $957,100
Prechter's Trading Advice $1,700
I had to chuckle when I saw who else was invested to speak at this recent Reuter's Investment Summit:
Nouriel Roubini
. I guess
Jim Cramer
wasn't available!
I am beginning to see a "bit" of a negative theme here with Reuters. In mid-November, 2008 I
wrote
about Reuters' articles quoting experts, including at another of their summits, predicting a depression. And, in mid-March, 2009, almost at the exact bottom of the U.S. stock market, I
wrote
about Reuters publishing a negatively hyped piece about one in eight U.S. homes supposedly being in or near foreclosure.
Related Articles:
See the "Guru Watch" section for more current articles on gurus and the facts and truth about their performance