When I worked as a financial counselor, I would have new clients complete a detailed questionnaire. One of the more important and valuable portions of that process included contemplating and compiling a list of personal and financial goals, both over the short-term and longer-term. Many clients remarked to me that they hadn't taken the time to reflect and compile such goals or if they had, hadn't done so in quite a while.
I found in that process of working with clients as well as in the adult education classes that I taught, that some folks would feel overwhelmed with the length of their "to-do" list once it was assembled. I would tell them that they should expect to take months and perhaps a couple of years to get everything in order and that they should prioritize their to-do list and work at the most important items first.
When Planning Interferes with Achieving Goals
A new study in the Journal of Consumer Research evaluated what does and does not lead to folks actually establishing and accomplishing goals. While the study did not hone in on financial goals specifically, the study's methodology and findings apply to the financial arena. Here are the highlights followed by thoughts:
"Research has shown that forming specific plans for a single goal makes success more likely," write authors Amy Dalton (Hong Kong University of Science and Technology) and Stephen Spiller (UCLA). "Most of us, however, are juggling multiple goals in our lives and jobs and managing a busy schedule is difficult. This raises the question of whether forming specific plans can help us accomplish more of the tasks we set out to do."

The authors looked at what happens when consumers make specific plans to pursue goals. For example, someone with the goal of eating a healthy meal might plan to "eat a salad with low-fat dressing at lunch tomorrow in the cafeteria." The research involved laboratory and field experiments that manipulated whether or not people plan in advance how they will implement their goals and the number of goals participants formed.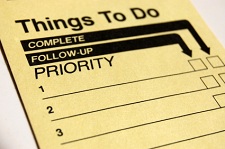 In one study, the authors provided participants with a to-do list of "virtuous activities" to complete over the course of five days; some people had one activity, but others had six. Half the participants were encouraged to plan specifically how, when, and where they would carry out the to-do list each day. "We found that specific planning helped people who had a single goal on their to-do list, but not people with multiple goals," the authors write. A second study, which involved a computer task, yielded similar results.

Why is specific planning less effective when applied to a number of goals? The authors believe that planning reminds people of all the obstacles and constraints that stand in the way of achieving goals.

But planning isn't always detrimental to achieving multiple goals. In an interesting twist, the authors found that people came to see their goals as more manageable if they thought other people were juggling more goals than they were. "These people framed their goals as relatively easy to carry out and were more likely to benefit from planning," the authors write.

My Additional Thoughts
If you read my book, Personal Finance for Dummies, you can easily develop a to-do list for whipping your finances into shape. You may be able to do the same working with a financial advisor so long as you find someone who is competent, ethical and who conducts a comprehensive review of your situation.
Regardless of which approach you take, this new study suggests that you work at one goal at a time and that you develop a specific plan to accomplish that goal. For example, if you'd like to boost your savings rate, you could begin that process by examining where you are spending money. Then, you could develop a list of specific actions that you'd like to take - for example, eating out less frequently, buying fewer new clothes, etc. - that would help you accomplish your goal.
It's interesting that the study also found that some folks felt more empowered in knowing that others had more goals to juggle which made their own goals seem more achievable. A good financial advisor (and my books and writings) can help you place your challenges in perspective and make you feel better about what you have and what you don't. Of course, your own optimistic perspective can help in that regard too.