Analyst predictions are everywhere. And, the news media loves to highlight, promote and discuss those predictions.
I wish as much effort was made to follow up on those predictions to determine the accuracy of them. On macro issues, I have done that in many articles especially on the Guru Watch section of this site.
Extreme Forecasters
A fascinating new study examines inaccurate analyst forecasts and how those analysts who end up being farther off the mark are more likely to be wrong in the future. As a side note it's worth mentioning that forecasters making more extreme predictions tend to get more media airtime. The nearly always wrong Nouriel Roubini and Robert Prechter are examples of pundits who routinely make extreme calls and continue to get lots of attention despite their horrible track records.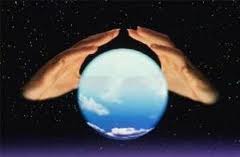 The study, "Do Sell-Side Stock Analysts Exhibit Escalation of Commitment?" was conducted by John Beshears (Stanford Graduate School of Business) and Katherine Milkman (Wharton School at the University of Pennsylvania) and published in the Journal of Economic Behavior and Organization. While the study focused on individual company forecasts, the findings I think have implications for analysts' bigger picture (economic and stock market) forecasts which I discuss later.
Here are the study's highlights courtesy of Stanford:
Analysts who make "extreme" quarterly forecasts - above or below the consensus or median estimate among all analysts following a given stock - tend to dig in their heels after being proved wrong…Once a company reports quarterly earnings showing the analyst was too optimistic or too pessimistic, the extreme incorrect analyst will revise his or her full-year forecast, but will move less aggressively in the direction of the earnings surprise than other analysts. This stubbornness hurts an analyst's overall forecasting accuracy, say the researchers.
The research has broader implications for understanding financial markets. Persistent, widespread over-optimism or over-pessimism by market participants could lead to mispricing of assets…stubbornness, Beshears says, "is one mechanism that might allow market bubbles and crashes."
The study underscored the importance of psychological biases in shaping market participants' behavior. Previous research showed that when people make decisions that turn out to be wrong, they try to justify them. They may have invested time, money, and effort into a decision, so they want to recoup their "sunk costs." Hence, they are reluctant to back down. "They want to recover their costs" and "hopefully vindicate themselves," says Beshears, who researches how individuals and companies make financial decisions.
Securities analysts go out on a limb when they make extreme profit estimates. So when their quarterly forecasts are proven incorrect, these analysts adjust their full-year estimates less to coincide with fact than analysts who started at the quarterly consensus, according to the research.
…Beshears and Milkman studied the Institutional Brokers' Estimate System I/B/E/S database with more than 6,200 analysts' quarterly forecasts on about 3,500 companies over more than 18 years, from 1990 to 2008…Among their specific findings: As analysts got more and more extreme, or out-of-consensus, they became less and less responsive to the new earnings information when revising their full-year forecasts. Stubbornness hurts forecasting accuracy. Revised full-year forecasts from extreme incorrect analysts were further off the mark from actual earnings than they would have been had the analysts' updating behavior been like the behavior of analysts who started at the consensus point. Analysts are punished for stubbornness. The more extreme, incorrect, and stubborn an analyst was, the less likely that he or she would rank among Institutional Investor magazine's All-American list of top analysts.
…Beshears believes research on escalation bias can be extended from equities to the debt markets to shed light on how credit analysts, loan officers, or risk management experts, for instance, view the performance of financial assets. Another future direction would be creating an "overarching model" of the psychological biases at play when people form expectations about the future or make financial decisions, he adds.
Implications for Broader Predictions
This research, I agree, has broader implications. In my observation, pundits and analysts who make more extreme macro forecasts (e.g. stock market, economic) tend to be wrong much, much more. Now, of course, there are exceptions and the hard part for the lay person is differentiating between a predictor who gets lucky and is "correct" about one of his extreme predictions and someone who has actual talent and ability for seeing what's coming.
Analysts and prognosticators make extreme predictions for varying reasons. Some of them do so for the publicity value and because they know that media folks generally fail to follow up on how predictions turn out and fail to look at their past track record before interviewing them in the first place. In other cases, an extreme prediction is made by an analyst because their research and analysis suggests that a market they follow has gone to an extreme and will have a more significant correction or bounce back.
All of this is an important reminder to check out the track record and previous predictions of folks who hold themselves out as being able to make predictions. And, it's a reminder to view skeptically anyone prone to making frequent extreme and provocative predictions. Such folks aren't looking out for you and certainly won't be a reliable source of good insights and analysis.